Custom Printed Oven Sticks
Oven Stick
C90070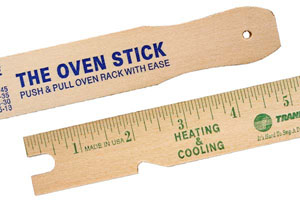 • Natural wood finish
• Useful kitchen tool
• Notch to pull out or push in oven rack
• Printed meat thermometer/cooking scale
• Magnets available
Pricing Includes: The "push 'n pull" oven stick! You pull the oven rack out with the notch below the 2" mark. You push the rack back in the oven with the other notch located opposite the handle. Straight-line ad copy and 12" scale printed on the front with a stock meat thermometer reading and cooking time scale on the back side and a hole for hanging. Magnets are available for backside at $.10 per stick.
Item Colors: Natural Finish.
Imprint Area: Approx. 40 characters and spaces.
Imprint Colors: Black, Red, Lt. Blue, Dk. Blue, Med. Green, Dk. Green, Orange, Maroon, Brown, Purple. Black is recommended.
Maximum Logo Height: 1/2"
2 Day Service: Straight line copy only. No other options available.
Popular Slogans: - "You won't get burned with..." - "Cooking up Great Ideas" - "For HOT Ideas, Call..." - "We're Pulling for You!" - "Rack Up Your Savings!" - "Push for Quality!"
Setup: For Custom Logo or Typestyle, Add $25.00 per color (for every 3" in length).
Multi-Color Imprint: $50.00/M or less, per color. per side. Cannot be close registration.
Ink Color Match: $40.00 per color, per order. Cannot guarantee exact match on colored surfaces.
Additional Artwork: $50.00 per hour.
Change Copy: $25.00 per change.
Change Ink: $25.00 per change.
Proof: E-proofs/Paper Proofs/Product Proofs - $ 25.00 each, per color. Artwork and logo charges are additional if required.
Less Than Minimum: $40.00 Absolute minimum is one-half of the lowest catalog quantity.
Packaging: 500 per box.
Weight: 30 lbs.
Fuel Surcharge: (In addition to freight charges) There is a surcharge of 8.5% on Ground Shipments and a 28% on Air Shipments.
| QTY. | 250 | 500 | 1000 | 2500 |
| --- | --- | --- | --- | --- |
| Price | 0.78 | 0.53 | 0.49 | 0.48 |
Interested in our custom printed rulers? Not finding what you want on our site? This is just a small example of some of the promotional products we offer! For more information on our custom printed rulers or to find out what else we offer, feel free to call the number above to speak with one of our friendly customer service representatives or click the button below to receive some free information on our products!


Not finding what you need here? Feel free to check out our HUGE product catalog by clicking here, or, give us a call at the number above to speak with one of our friendly customer service representatives.
Our Vision Statement:
The staff at Logo.Me LLC is committed to fast, flexible, friendly and personalized service through a committed core of efficient, detail-oriented professionals. We offer an expansive and versatile line of promotional products to fit any budget. We are here to make your promotions simple and easy.